Our Republic Photo Walk is on September 23rd, 2012.
Trinidad & Tobago will celebrate its 36th year as a Republic on September 24th. Little known fact – September 24th does not commemorate the anniversary of Trinidad & Tobago becoming a Republic.
We became a Republic on August 1st, 1976.
The first sitting of Parliament under the new Republican Constitution took place on September 24th, 1976.
Our Republic Photo Walk will take us from the Red House, the historic seat of Parliament to the current seat of Parliament at the International Waterfront Centre.
The route through downtown Port of Spain will take us past many historic buildings including:
Trinity Cathedral
National Library
old Fire Station
old Police Headquarters
Treasury
Meeting Point and Route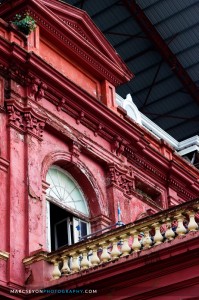 The meeting time is 3:45pm (September 23rd)We will meet outside the southwest corner of Woodford Square (corner of Abercromby Street and Hart Street) and proceed west along Hart Street to St. Vincent Street.
We will head south on St. Vincent Street to Independence Square and west along Independence Square to the Waterfront.
Sunset will be at approximately 6:00pm.
Parking
We recommend parking closer to the Waterfront so you won't have to walk as far afterwards to get to your vehicle. Parking is available at the Hyatt car park – no fee, to our knowledge. Alternatively park with caution along Wrightson Road or on Independence Square in the vicinity of Furness Building and Unit Trust.
Taking Part
This photo walk is free and open to anyone. It doesn't matter if you are a professional, hobbyist or casual photographer, or what type of camera (or camera phone) you have.
Think of it as an opportunity to get out, explore a bit, and meet and lime with others who enjoy photography as much as you do.
After the photo walk, read these tips on how you can share your photos with the group, and keep in contact online.